Innovative ways to streamline the cannabis production process are in high demand. There are numerous challenges and inefficiencies in the cannabis industry that often complicate or impede the effort to bring new products to market. 6Pak's Trilateral Partnership is the solution Canadian cannabis brands need to help sidestep barriers and bring quality cannabis products to market.
Supporting the Canadian Cannabis Market
The ever-changing landscape of cannabis regulations are one inevitable hurdle all new cannabis companies face, and the ability to nimbly navigate the shifting terrain is integral to long-term success in the market. Regulatory challenges also apply to packaging in terms of accurate filling and labeling requirements and extend to health and safety issues like accurate dosing and safety caps, making expertise and precision in the production process crucial. With cannabis companies having to rely on support from many, sometimes conflicting and costly sources to navigate the regulations, cross-collaborations and shared resources bring brands and their products to market faster.
NaturalSci Reg, 6Pak, and Hempsana Join Forces
With the aim of surmounting these challenges in an efficient, comprehensive way, 6Pak is proud to announce a trilateral partnership with NaturalSci Regulatory Consulting (NSRC) and Hempsana Holdings Ltd to help brands and licensed producers enter the Canadian cannabis market, providing full turn-key solutions for all their operation's needs.
Meet the Trilateral Cannabis Partners
Our new Trilateral network will help legal cannabis producers and emerging brands navigate the Canadian cannabis market with ease. With expertise in the fields of production, refinement, manufacturing, filling, co-packing, and regulatory and compliance in the cannabis industry, we will work together to advance the growth of new brands in the legal cannabis market.
6Pak Solutions Inc.
6Pak consists of a team of experts in cannabis extract filling and packaging space. We help licensed producers, brands and processors bring new and innovative products to the cannabis market faster with top-of-the-line automation equipment and processes. 6Pak offers cutting-edge solutions for your product needs, including filling anything from vape cartridges to lotion bottles with high precision, ensuring accurate labels on packaging, and implementing safe and innovative caps for a variety of products.
6Pak saves your company time and money with custom turn-key services. Filling, labeling, and packaging can all be streamlined to ensure that products are ready for the market when they reach the distribution stage. The 6Pak team has vast knowledge of equipment and process capabilities, and as a sister company of ATG Pharma, has access to all ATG resources and support to provide the highest quality of production at the lowest cost. 6Pak is a trusted company with over 5 years of experience and is a leader in standard filling solutions with FDA, Health Canada, and GMP compliance to over 150 licensed producers worldwide.
NaturalSci Regulatory Consulting (NSRC)
NaturalSci Reg offers full-service regulatory affairs expertise and has over 15 years combined experience in the cannabis regulatory field. Their team can ensure that newcomers to the industry will have a plan that is compliant from concept to consumer and will choose the right solution for the size and growth trajectory of the operation.
Launching a new cannabis operation or product can be difficult, but the NaturalSci Reg team of experienced cannabis regulatory specialists can create a comprehensive plan for your cannabis operation, ensure your products are compliant, and keep you updated on any changing Health Canada Regulations. NSRC's regulatory support and consulting can guide you through the whole launch process from concept to retail shelf and international export. NSRC helps operations stay in the loop with regulatory updates and formulation advice and can help brands with everything from label compliance and cannabis product consulting, to license applications to Health Canada such as NNPs (Notice of New Cannabis Product).
Hempsana Holdings Ltd.
Hempsana is a licensed cannabis extraction and purification company which produces high-quality cannabinoid oils and cannabis-infused products. Hempsana is a trusted name for cannabis derivatives, using an advanced process for extraction and manufacturing. The company's vision is to offer cannabinoid extracts to modern consumers seeking safe and natural alternative treatments, focusing on CBD, CBG, and CBN as their primary extracts. The company ensures products are safe and formulated consistently, incorporating strict quality controls and extensive in-process testing. Hempsana combines their deep science knowledge with industry expertise to help clients develop unique products and formulations, as well as leveraging distribution to bring these brands and products to market.
Triple Threat: Providing companies with full turn-key solutions
The new trilateral partnership between NaturalSci Regulatory, 6Pak Solutions, and Hempsana Holdings will help make the legal cannabis industry more accessible for licensed producers and brands, and provide them with the solutions needed to successfully launch products in the market. With the expertise and experience from these strategic partners, this new network will be able to provide support to licensed producers and create new opportunities for clients in the industry.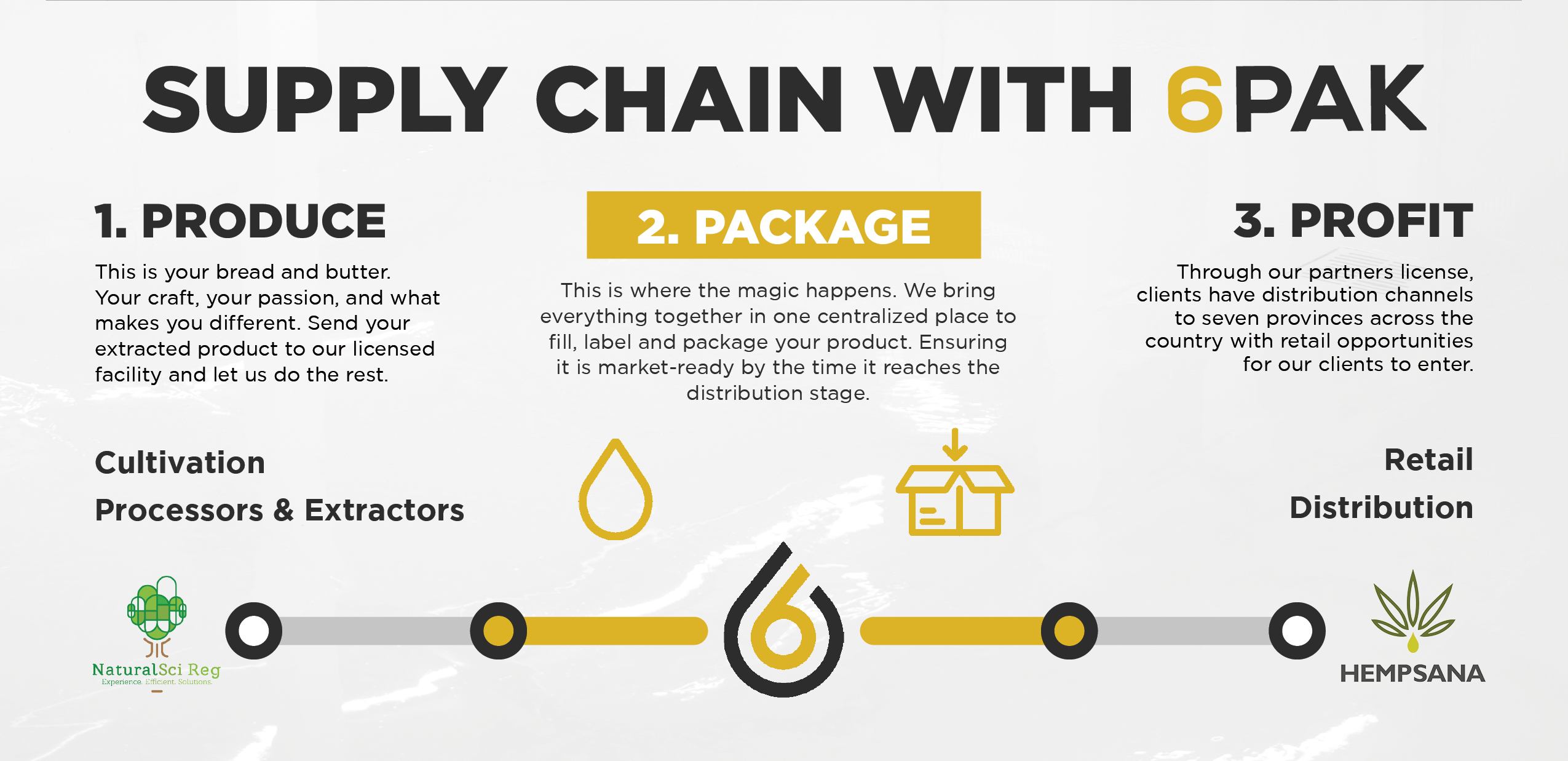 Are you a licensed producer or brand preparing to bring new cannabis products to market in the Canadian cannabis industry?
Contact us today to explore your custom solutions.